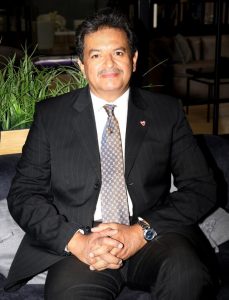 Fifty years ago (1968), my beloved late father, Ahmed Amin Alkhaja have started his business as a general trader and merchant. His dream was always to grow and establish a group of companies to serve Bahrain's needs for its development. His plan was thorough, precise and always been committed to fulfil the need of the market. During the era of Bahrain's booming in its economy, my father contributed drastically and was well known for his inspiration and faithfulness to his country. He without a doubt, have embedded and invested this concept in his children. Over the years, this has resulted the birth of a group of companies named – Ahmed Mohamed Amin Alkhaja & Sons or AMAK.
Al Amin and it's executive team in place and with the help of our tremendous employees, we are really making progress in achieving our strategic goals of transforming our service offerings into core competencies, and increasing our existence in the industries sector by growing our existing clients and expanding our client rosters.
We have earned a great reputation as a trusted partner to our customers. In the recent years, with our sensible approach, we have grown steadily and remained strong despite challenging market conditions, we foster each client relationship from the initial concept to completion, and often maintaining this contact years after a project is finished.
We offer expertise that goes beyond "state of the practice" to include innovative solutions using techniques to do our works in order to come to our client's expectations. We want our reputation for excellence to spread to other areas within our customer community.
We are proud of the quality of services and our approachability to our client's schedules.  These are the principles to our business and long-lasting client relationships.
Thank you for all you do.  My door is always open to you.
Mohamed Ahmed Amin AlKhaja
Managing Director